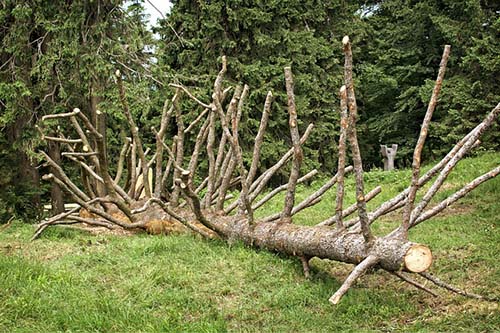 North Richland Hills Storm Cleanup
Severe storms happen regularly in North Richland Hills. Put simply, storms are no fun, and they can result in chaos in our yards. Storms and other severe weather like to push things over. Unfortunately, cleaning up after a storm is a necessary part of landscape maintenance that none of us want to deal with. Whether you just have a couple of twigs, few small branches, large branches, or even a whole tree, North Richland Hills Tree Service Experts is ready to handle everything and put your worried mind at ease.
Storms and other severe weather can knock down power lines and leave your home without power for minutes, hours, or even days. When you find yourself stuck in this situation, you need a company that will respond quickly. North Richland Hills Tree Service Experts is a local company with the quickest response times. Big or small, branch or tree, we'll be there to pick up the pieces for you.
We've seen firsthand how the result of how extensive the damage from storms becomes. We use the best equipment and machinery to tackle any sized project. We have a fully-staffed crew of professional arborists with the skill and knowledge to accurately and safely use all of our equipment and machinery. We're here to take care of our North Richland Hills community with all of its tree service needs.
We Take Safety Seriously
After a long night of severe weather or a massive storm, it's crucial to take into account your safety, the safety of your family, and the safety of your home. As the damage is revealed in the rising sun, it's vital to get to safety immediately. It can be hard to accurately assess the severity of damage done to your property after a storm. Contacting our experts at North Richland Hills Tree Service Experts is one of the best ways to ensure your property is taken care of at a great price.
We offer free no-obligation estimates when we come out to evaluate the damage to your property, so you receive the most accurate estimate of the cost of services. Unlike a lot of other companies, we only recommend services you actually need at the best price, not unnecessary services that make us more money. Severe weather happens often, and fixing up the damage can quickly get very costly. At North Richland Hills Tree Service Experts, we're devoted to providing exceptional and safe tree services at a fantastic price.
The Best Choice
Perhaps you think picking up after a storm by yourself or with a couple of friends or family is the most straightforward option. While it may seem better to do things by yourself, you could get injured. Rather than risking your safety and the safety of your friends and family, you should call us at North Richland Hills Tree Service Experts to tackle all of your dangerous tasks.
Our team will work with your homeowner's insurance to ensure that everything is adequately documented and handled. The good news is, most homeowners insurance will cover damage from storms and other severe weather. Double-check your policy to ensure you have adequate coverage to minimize cost.
After we've thoroughly evaluated and cleaned up the damage, our experienced arborists will assess the rest of your property and inform you about risks or problems that could cause issues in the future. Our crew is skilled in recognizing potential hazards and can also apply preventative and corrective measures to keep your property and lawn safe. Let us do the hard work for you!